Events at Out To Grass Malvern
Upcoming Events August 2021:
SATURDAY AT 3 PM  – 11 PM 
Thoby Davies & David Moule live AND DJ Syncopath behind the decks
We are excited to have Thoby Davis here on Saturday afternoon to entertain us with his one man musical magic, Thoby is like a human juke box and I'm sure there will be a chance to suggest you favourite tunes, so come and get involved. Thoby Davis will then return to the stage with Dave Moule to take you on an electronic musical journey that will bring the evening to a crescendo.
DJ Syncopath
I'm bringing classic music back to modern dancefloors. There are an army of skilled, passionate artists lovingly remixing and re-imagining classic songs into modern thumping, funk and soul filled revisions.
He's seen it all, played it all. Resident @tonicworc and sharing his favourite tunes with a great crowd of people.
It's going to be another great weekend and we can't wait to see you in the field 
Reception open for booking in Friday 2pm – 8pm, Saturday 10am – 2pm
SATURDAY, AUGUST 14, 2021 AT 8 PM 
Hailing from Stourbridge, The Shaded Squares will be making their OTG premiere on August the 14th, taking to the stage at 8pm.
With a superb repertoire of familiar favourites, they're bound to have you singing along and dancing in no time to their smooth, soulful indie sounds.
Plus support from DJ Ed Steelefox, who'll bring the night to a close at 11pm.
Attendance is free to those not camping over, with donations welcomed at the bar, and with food and hot drinks also available from the RJS Catering and Bean There, Drunk That stalls.
SATURDAY, AUGUST 21, 2021 AT 6:30 PM – 11 PM
Shanty Town & Culture Dub Orchestra
Following on from their awesome appearances at OTG last August Bank Holiday, Shanty Town and Culture Dub Orchestra return for more blissed-out fun in the sun.
6.30pm – Shanty Town are the gentle giants of the Birmingham soul music scene and are renowned for their smooth grooves and low-slung funk stylings.
8.30pm – Culture Dub Orchestra will be down to whip up a bass-heavy storm, drawing in world-music influences along their path and stoking a red-hot frenzy on the dancefloor.
Plus support from DJ Ed Steelefox, who'll bring the night to a close at 11pm
AUG 27 AT 3 PM – AUG 30 AT 11 AM 
Bank Holiday Shenanigans – OTG's 21st Birthday
AUGUST SPECIAL 2021!!
We are 21 years old this month. Come and join us for another FUN-tastic Staycation SHENANIGANS to celebrate our 21st birthday!!!
You can expect the usual FUN, Camping, Glamping, Bands, Beer and BBQs!!!!
Activities for young and old alike. The Bank Holiday Shenanigans is a family-friendly camping weekend.
Activities during the day:
-Creative Workshops
*Mushroom Carving
*Fairy Door Painting
*Build A Bear
*Basket Weaving
*Drumming
-Quiz
-Sound Bath by @SurroundSoundTherapy midday Sunday
-Camp Fire & Marshmallows
-Fire Maze and much more
-Music until 11 p.m. on Saturday and Sunday
Behind the decks the legendary DJ Ed Steelefox
Sister Sandwich live on Saturday
Martin Thorne & Co live on Sunday
Johnny Kowalski & The Sexy Wirdos live on Sunday
We stock the finest Wye Valley Ale and Lager and Hobson Cider along with a selection of gins behind the bar.
Breakfast, lunch and dinner served by RJS Catering.
Smoothies and milkshakes by Bean There and Drunk That.
Desserts by Pud Puds
Everybody is welcome at Out To Grass.
Past Events
PADDY STEER & DISCO SOUP
22 MAY 2021 2 PM – 11PM
Join us amid the rolling hills to have a long-awaited, sun-kissed dance and to wonder at the sparkling wizardry of Paddy Steer!
Hailing from the furthest fringes of the known universe, but travelling via Manchester, Paddy Steer brings his incredible array of self-built instruments, costumes and inventions which enable him to generate a cosmic symphony of exciting and mysterious noises. Like a one-man Arkestra, a circuit-bent Moondog, his homemade sounds of the spheres could easily be interpreted as a otherworldly reply transmission to the Voyager Golden Records, dispatched into space in '77. A rare visitation not to be missed!
www.paddysteer.com
Meanwhile back on Earth, the Disco Soup DJs have been collecting deeply interesting records more than ever during the past year and aim to gently lift you to your feet and beyond throughout the course of an 8hr, 3-way, vinyl mix which will no doubt encompass all things dreamy, jazzy, italo, afro, latin, early house &, of course, disco.
With a superb sound system housed in the OTG geodome, this is primarily an outdoor music event but there will be cover and seating available and plenty of open space for distanced dancing.
Guests who do not plan to camp over are still very welcome for the day/evening if they make a donation on the gate and make use of Mal's Bar, the smashing RJS food stall and the energising 'Bean There, Drunk That' real-coffee & smoothie van.
For those wishing to make the most of the weekend and stay over, please book a pitch in advance via this link www.outtograss.com/
May Bank Holiday / Shenanigans
28th-30th May 2021
We are happy to confirm the return of our annual May Bank Holiday Shenanigans which according to you just keeps getting better every year. We'd like to invite you to join us for a friendly family weekend full of fun, good music and fabulous people! There'll be plenty of fine food and local beer available alongside a host of activities for young and old alike; including games, workshops, campfire stories – with marshmallows of course. MORE INFO SOON….
Read about our 2016 May Bank Holiday Event here.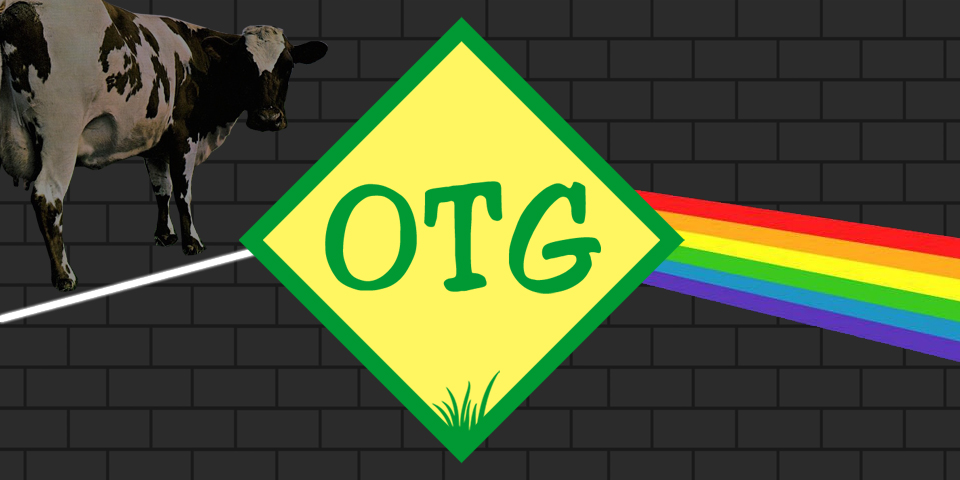 Love to The Wall – A One-Man Pink Floyd Tribute + Chatfield 4th May 2021
7pm – 8pm – James Chatfield is a looping and simulti-instrumentalist master that you could very well have already heard on the streets of any given Midlands town, as he devotes much of his time and energy to busking for the passing listeners, often creating spontaneous and unique compositions as intricate and beguiling as the murmurations and currents of the crowds themselves.
8.30pm – 9.30pm – Love To The Wall – Once the sun has set, a special treat is in store for all fans of Pink Floyd. Accompanying backing tracks of his own creation and much-loved Floyd projections, Birmingham's Mark Smith performs a superb tribute to simply some of the best music ever written and heard.
Although the stage is covered by the OTG geodome, the dome sides will be rolled up so this will be run as an outdoor event, with plenty of space for safely distancing yourself and bubbling in your groups, with (some) seating and cover available (although do feel free to bring your own chairs if you can).
Please do spread the word and tell anyone else you'd like to see there and especially fellow Floyd fans.
Not far from Cradley on the Hereford-Worcester road, Out To Grass is a beautiful festival-style campsite and daytime/evening guests are welcome to attend if a donation is made on the gate and they enjoy all that Mal's bar, RJS food tent and the 'Bean There, Drunk That' hot drinks van have to offer.
Those planning to make a (much advised) night of it can book pitches in advance here:
www.outtograss.com
31st of JULY 2021
Its looking groovy!!! We are so excited to welcome DJ Twisted back. Kelvin is a DJ/Producer/Promoter/Party Goer. 80's, 90
's and Reggae specialist. From Rock & Roll to Disco, DJ Twisted will get you moving. Since 1994 DJ Twisted has been blessed with an infectious energy for the party vibe, renowned for playing rave events in and around Bristol. Resident for Absolute Old Skool, Promoter and resident at Funkin House 4 years presenting a radio show for
Globaldnb.com.
Dj Twisted has played for Fantazia, Dance Conspiracy, Tick Tock, Psyanide, Tribe of Frog, Beat Nyx, Ripsnorter, Briz-Tek, Acceptance, BlackJack Promotions, Bad Bass and many more. He has played at several festivals including Sat in a field festival, Beatnyx Weekender, Frequency, InDescreet and Frequency Festival (Portugal). He has several House and Drum & bass Tracks released on Red Alfa and Blue Beck Records this year is looking big.
@DJTwistedBristol
Camping over is very much recommended, this time especially, and can be booked at
www.outtograss.com
Otherwise, daytime/evening visitors can make a donation towards the event in the tip jar on the counter of Mal's bar, next to the geodome, and can refuel at the superb RJS catering stall and the Bean There, Drunk That coffee/smoothie bar!
August Bank Holiday / Shenanigans
28th-30th August 2021
COMING SOON!!!
More details on Facebook.
Please sign up for our newsletter to make sure you don't miss out on information about future events and news. Use the form right at the bottom of this page.