Preserving our countryside and reducing our respective carbon footprints is more important now than it ever has been. With this in mind Out To Grass has been working closely with Green Tourism to refine all its practices and procedures to minimise the environmental impact of its site and that of its visitors also.
Erika Varga, the sites eco-warrior, has worked tirelessly to reduce the energy usage, maximise recycling, save water, and introduce green policies which have driven Out To Grass to be as environmentally impact free as possible. It has been her attention to detail that has resulted in our site being awarded the illusive "Gold Award" from Green Tourism.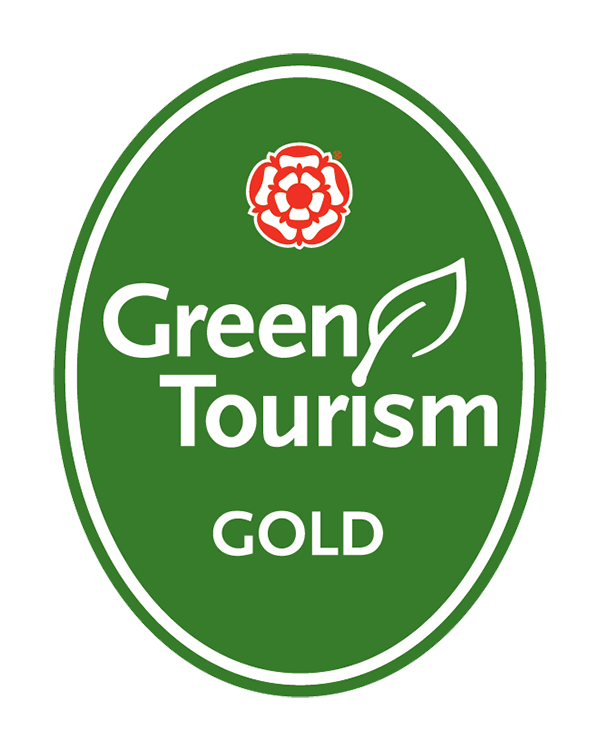 We have eliminated almost all chemicals from our cleaning procedures, using castile soap and vinegar alongside a steam cleaner has reduced our chemical usage to almost zero. We provide free hand soaps and shower gel which are not only free from phosphates (and parabens, silicon, animal derivatives and not tested on animals) but leaves you feeling so fresh and smelling so good that the entire crew is using it!
Solar lighting, low energy bulbs, push button taps and showers and super high efficiency boilers combined with double glazed super insulated glamping pods and bar have all helped Out To Grass earn its Gold status.
We encourage our visitors to soak up the countryside environment and provide them with information explaining how our immediate ecosystem works, what is living around them and how they can make small steps to reduce their impact on that environment not only whilst visiting us but in their everyday lives too.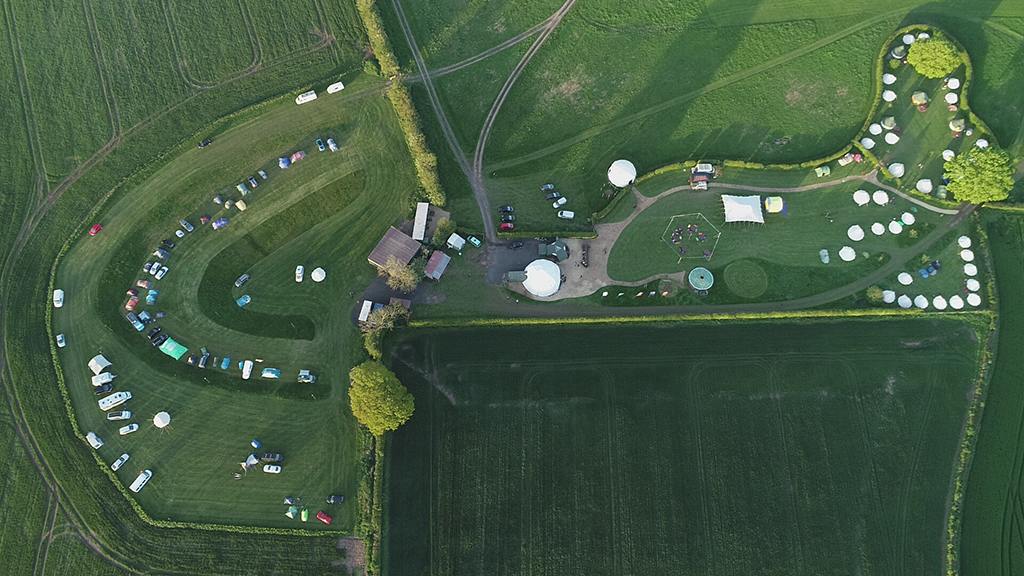 Our council have been instrumental in our recycling efforts allowing us to dispatch all recyclable packaging for them to separate in their new "enviro-sort" unit and we separate cans and compostable materials separately. All single use plastic packaging is shredded and turned into Eco Bricks which we hope to use to demonstrate how efficiently these can be put to use whilst preventing all the plasic going to landfill sites.
Tree planting schemes are already in place but we are planning a further campagn this autumn and aim to plant a tree for every wedding and music festival from this time forward. "We are blessed to be a Duchy of Cornwall farm and the Boss (HRH) is backing us all the way by giving us indigenous trees free of charge to plant on the farm".
Despite winning this top award from Green Tourism we believe we can go further, Wild flowers and edible gardens are being planted to bring beauty to the site whilst allowing us to produce organic fruit and veg for use by our crew and to make our famous camp stews as home grown as possible.
Our guests at Spring Shenanigans on the upcoming Bank Holiday weekend will get the chance to attend an eco brick workshop where they can learn about making eco bricks and we will become a centre for collecting the bricks to use here on the site creating something which our regular visitors can say they all helped to build and will boast an almost zero environmental impact being nearly entirely recycled.
We have rigorously policed our "no glass policy" and expanded it to prevent glitter being brought onto the site unless it is bio-degradable. Our guests are presented with our green policies both on booking and again on arrival and we are really happy to say that it is not only working well but has been met with great enthusiasm by our large number of regular, returning campers and glampers.
All our events sign up to our green contract which encourages then to present our aims and objectives forward to those attending our events. "We have been amazed by how readily folk have adopted our plans and stated intentions; it is our hope that they all go home having thought a little more about how they can make a few small changes to their daily lives which in turn reduce their environmental impact forever".
We feel blessed to have spent the past seasons working so closely with Green Tourism who have given us a framework on which to plan and implement our environmental policies and procedures. Their help and assistance has been invaluable and it is our pleasure to state that businesses which have signed up and embraced their awesome help and encouragement can be supported in the knowledge that those businesses truly are doing their part for the environment . . Thanks for the Gold Award guys, we think you're diamonds . . Keep up the good work! To all tourism businesses, you should embrace the help Green Tourism is giving and see how much you can save whilst saving the planet too!
Should any businesses wish to use our material and policies we welcome this. All our policies and systems can be found here and Green Tourism can be found at www.green-tourism.com.