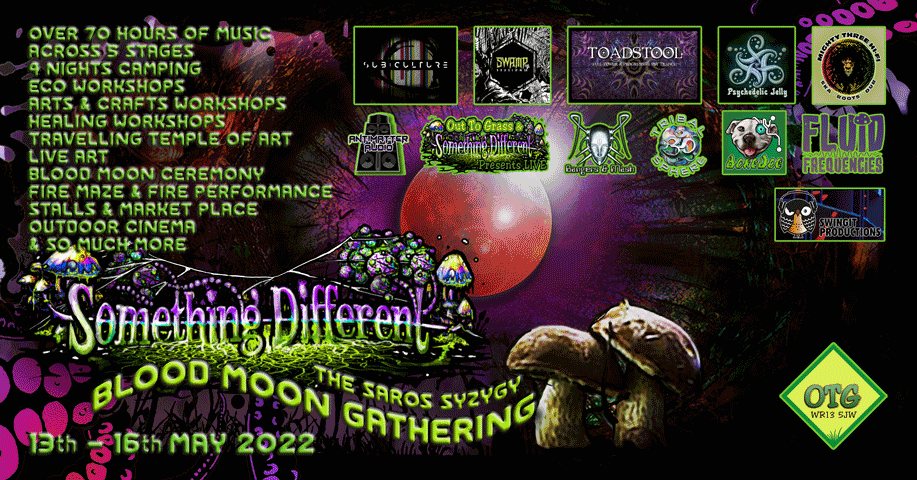 THE SOMETHING DIFFERENT SAROS SYZYGY BLOOD MOON GATHERING


13th MAY 2022 Out To Grass – Midlands UK
An over

18s

only Event

Where were you 18.029 years ago?
Come celebrate the saros lunar cycle and honour this epic celestial moment in time with us. As the sun earth and moon begin to align, prepare yourself for a new cycle by shaking off the last. Gather with friends and your tribe to start new beginnings as the blood moon approaches. We have prepared a colossal and eclectic musical and festival experience for you to achieve exactly this. Something Different has united an amazing collaboration of underground UK music labels to deliver a top class, immense festival line up.

Gates open 2pm Friday, the music starts at 6pm and steadily ramps up till 6am Saturday morning building to a belting crescendo of chunky beats. The music breaks between 6am and Midday so that everyone can prepare for Saturdays superb and substantial schedule running midday till – 6am sun morning. After that monumental sesh' you'll be needing your Sunday morning break between 6am and midday. From midday Sunday we have our last squelchy stomp easing off as the day goes on. We wind down with chilled and mellow vibes until the music ends at midnight Sunday. The actual blood moon eclipse is on Tuesday the 17th at 4am in the morning. We have decided to invite everyone stay for an extra FREE night of camping so that we can all go full on tribal and enjoy this incredible celestial alignment.
What Else we got going on?
There will also be activities and workshops across the healing, welfare and chill out area. Arts and crafts workshops and live art will run within the Travelling Temple of Art Gallery. You can get involved with exciting Eco projects here at Out To Grass and also find workshops and educational talks at the eco and sustainability area. There will be a market area selling all kinds of handmade merchandise and quality festival gear as well as quality food and refreshment stalls. There will be communal fire pits on the main site and in the night time stage area. There will be quality sound and lighting production across all stages. Maintained toilets across site and showers in the camping area. Live in Vehicle and glamping options. Site performers. Outdoor Cinema. licensed bar.
Booking now closed
The Blood Moon Ceremony

The actual blood moon eclipse is on Tuesday the 17th at 4am in the morning. We have decided to invite everyone to stay for an extra FREE night of camping so that we can all wind down together and enjoy this incredible celestial alignment. There will be an open-air cinema for those that want to chill and we will have some fun communal activities going on through the day for anyne who wants to get involved. As the evening goes on, we will go full-on tribal with an epic sized drumming circle, fire maze and spinning circle for everyone to get involved in. We can then witness and celebrate this 18-year lunar cycle together with our tribe and begin our new chapters as one.
The Current Something Different 2022 Line Up
THE MUSIC!
– The Essentia Stage – Minimal & progressive Techno – Subculture
JACOB FRENCH
JUST JESUS
MERLIN
– The Hive Stage – Drum and Bass – Antimatter
INFORMATION PARADOX
– The Flux'd Stage – Borgdog – Nightime Twighlight Dark Psy Hitech
– The Essentia stage – Out to grass & Something Different presents –
– The Animystic stage – Extempore Project –
– The Hive Stage – Techno/Hard Dance – Bangers and Mash
– The Secret Element Stage – Progressive and full on Psytrance – Toadstool
MIKEY
ROSSO
– The Flux'd Stage – Fluid Frequencies – full power psy –
ANDROID
– The Essentia Stage – Psychedelic Jelly – Psy chill/ Psy dub
-The Animystic Stage – Tribal Sphere – psy
– The Hive stage – Dub Roots Reggae – MIGHTY THREE HIFI
Travelling Temple of Art
Getting involved.
If you'd like to volunteer to steward, be a runner, be part of build and break crew email [email protected]
If you'd like to do live art or display site art please email [email protected]
Something Different Event Policies
The health and safety of visitors to the Out To Grass site and Something Different Event is our main concern.  We ask that everybody attending read and agree to abide by the following.  That way we can make sure that everybody can have a great time.
Considering Covid
COVID – We can't predict what the situation will be by May 2022. We will run under Covid guidelines in place at the time.
Under 18s and Infants
Tickets are only available to 18-year-olds and over. Children under 3 may attend for free with a paying adult guardian. All children and guardians will need to be registered on arrival. Children will not be allowed in the night time stage areas.

Next please!  Supporting our bar.
We ask you to support the bar on site, please buy from our reasonably priced bar when you are in the stage areas. Bar takings help to support the event and site. Under £5 a pint!

Respect for the Environment
Please respect our Eco efforts here at Out To Grass. Please take any rubbish you can home with you and use the recycling facilities on site.
Unforeseen changes
We withhold the right to make changes to scheduled entertainment.  In the case of circumstances beyond our control reserve the right to postpone the event.  Refunds will be available where requested in the case of cancellation.

Any enquiries about the event should be emailed to [email protected]