Something Different 2023 has been moved to a different date! 
Important announcement
read more
To our amazing Tribe!
It is with a heavy heart and great sadness that, we have had to make the difficult decision to postpone Something Different 2023 until a later date!
THE NEW DATE IS 22nd - 24th September 2023
Our amazing OTG team have pushed on with the set-up,  but despite all our effort, we had to make this heart breaking decision. The ground is completely saturated, and it will be neither fun nor safe for you to party on it. There is no safe access for vehicles; it just can't work with the recent weather conditions.. We cannot deliver an event that jeopardises anyone`s safety.
We are very sorry to everyone who booked time off and made travel plans. We will be picking a new date as soon as possible. All tickets and glamping bookings will be moved to that date automatically. If you can no longer make the new date, we will of course refund any purchases.
Please be patient with us as we deal with this; we will not be able to respond to all messages right away.
Musicians, Performers; artists; workshop runners; volunteers; one of us from the SD admin team will be in touch asap, but please give it time.
Much love, SD & OTG Crew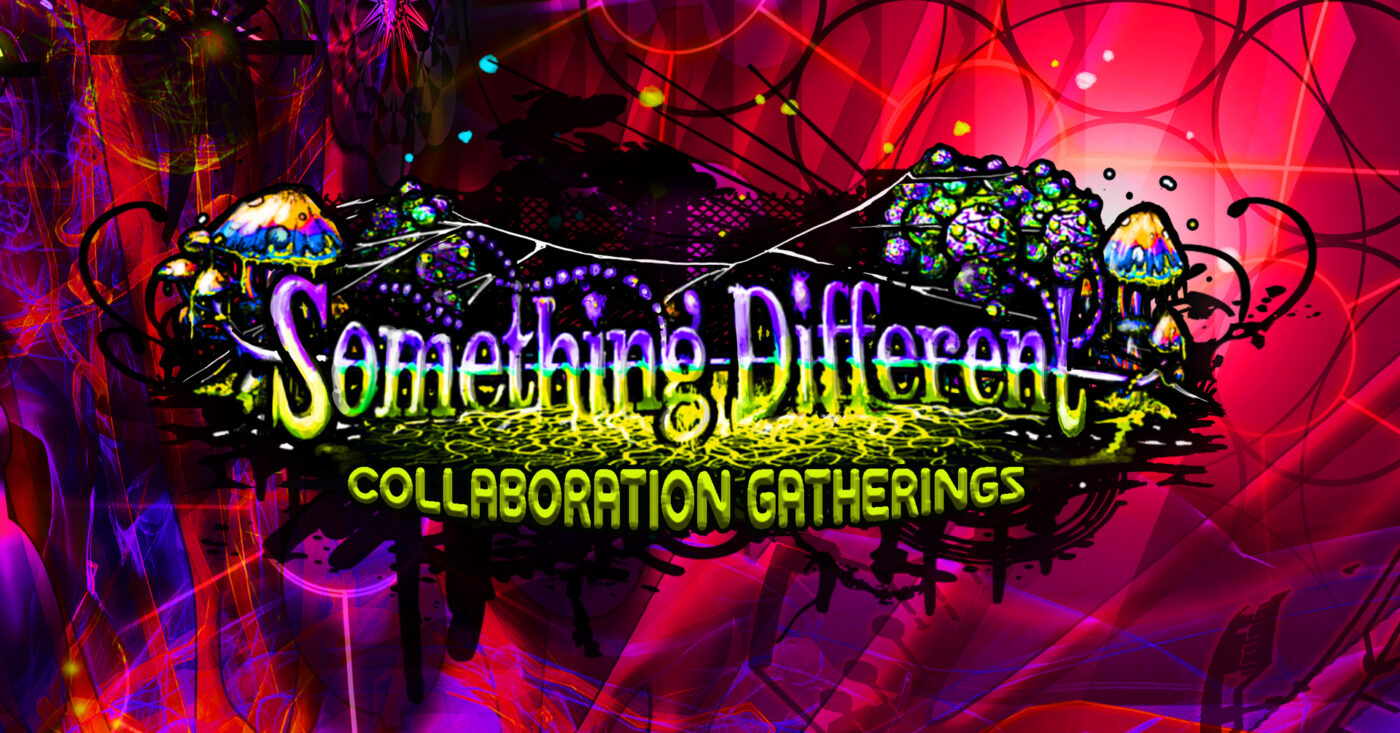 The Dissolution of Illusion
As mother nature stamps her feet and kicks up dust, we realise she is one of us celebrating her existence with us in a feverish dance. as we join her toe-to-toe Life begins to vibrate at a higher frequency. engaged in her dance we realise we are no longer at the edge. we have passed over and we have evolved to be more than ever before. Our new perspective shows us a future illuminated with opportunities. We can forgive ourselves for being confused and redeem ourselves for mistakes we've made in the past. As our eyes and hearts penetrate deep out into the universe, we see our own struggles reflected back at us. With new understanding the veil is lifted and a switch inside is flicked. We are energy, together we raise vibrational frequencies. Together we can be the source of abundance. Join us for an epic gathering of musical masterminds, creative conjurers and high energy post humans, collaborating in a frenzy of frantic fun to charge up your mind, body and soul. We are Something Different. come celebrate with us.
"ALL OVER IT" Early bird tickets at £85 SOLD OUT
"GETTING ON IT" 2nd wave tickets at £89 Limited amount available
"LIVE IN VEHICLE " gets you prime position in the field, ticket upgrade at £45 on sale now,
"ELECTRIC HOOK UP" ticket upgrade at £30 on now
"GLAMPING TENT" ticket upgrade including electric hook up for 4 people at £300 available now.
"TRAIN STATION TAXI" ticket upgrade at £10 gets you back and forth from Malvern Link Station, available now
"DOG OWNER DEPOSIT UPGRADE" at £100 available now
Once you have made your purchase you will receive a confirmation email. The confirmation email is your ticket, if you purchased multiple tickets, all tickets purchased in transaction will be linked to the Order Number found on this email. Please present email at the gate when you arrive or have the order number ready so that we can find you in our records.
GET YOUR FULL WEEKEND TICKET NOW AND ADD WHAT UPGRADES SUIT YOUR NEEDS, CLICK LINK BUTTONS ABOVE.
The Line up for 2023
Please follow us on Facebook to see stage lineup releases and get involved with our community.
(20+) Something Different Collaboration Gatherings | Facebook
Stage takeover line up releases –
SOMETHING DIFFERENT & OTG PRESENTS
Lobster –
The Social Ignition  –
Don't Feed The Goat –
The Junkoactive Wasteman & the Tin Can Twins –
Dylan James & The Chapel Hill Gang –
ED STEELEFOX PRESENTS – https://www.facebook.com/djedsteelefox
TRIBAL SPHERE https://www.facebook.com/TribalSphere.co.uk
Tickety Boo's – (Toxic Tegan, Ellen, Lorraine) – https://soundcloud.com/lorrainepsilocybetribe + Stream Toxic Tegan music | Listen to songs, albums, playlists for free on SoundCloud + Stream Ellen music | Listen to songs, albums, playlists for free on SoundCloud
Obvilion – (Producer set) – Stream Obvilion music | Listen to songs, albums, playlists for free on SoundCloud
Nocturnal Project – (producer set) – Stream Nocturnal Project music | Listen to songs, albums, playlists for free on SoundCloud
Sporophore – (Producer set)- Stream Sporophore music | Listen to songs, albums, playlists for free on SoundCloud
BORGDOG www.facebook.com/Woo.Dog.Recordings + www.facebook.com/hitechnicians
SWAMP SESSIONS – Stream Swamp Sessions music | Listen to songs, albums, playlists for free on SoundCloud – Stream Zenon Records music | Listen to songs, albums, playlists for free on SoundCloud
FLUID FREQUENCIES https://www.facebook.com/fluidfrequencies
TOADSTOOL –(12) Toadstool Psy Trance Parties | Facebook
AUDIO ADDICTZ LIVE – https://www.facebook.com/groups/259052364223600
Visuals/Projections – by https://www.facebook.com/Ra1nyPhotos
BANGERS & MASH– https://www.facebook.com/groups/bangersandmash
PSYCHEDELIC JELLY – www.facebook.com/PsyJelly/
ANTIMATTER AUDIO – https://www.facebook.com/AntimatterSoundsystem
INVISIBLE NOISE – Techno Vs' Psy Vs's DanB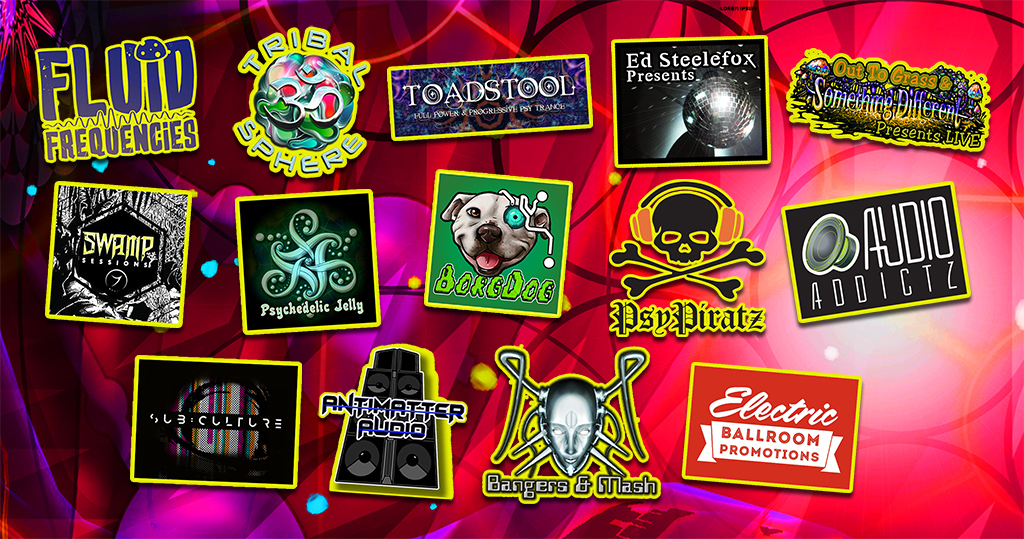 Other stuff you need to know
This is an over 18's event. What we do is too cool for skool kids. 4 Years and under can attend with responsible adult ticket holder for free. Kids must be registered on arrival. Kids are not allowed in licensed areas and stage arenas without suitable ear protection.
You will need to register using the dog deposit scheme if you wish to bring a dog to SD 2023. There will be designated dog friendly camping areas, you will have to camp in the designated area if you are bringing your dog. We will provide scoops on site so you can clean up after your dog. Dog walking routes on site. Dogs are not allowed in the licensed area or stage arenas at any time.
Last year the only way we managed to break even was by combining the ticket sales money with the money taken over the bar. Thank you for supporting the bar Supporting the bar really helps to support the event and everyone who takes part to make it happen. We have no problem with you bringing a reasonable amount of personal alcohol to drink in the campsite areas only. Please use the totally reasonably priced bar on site when in the licensed area and at the stages.
We have a no glass policy on site so please decant glass bottles before arriving.
Eco and Recycling Efforts here at OTG – The site was pretty impressive throughout the weekend at SD 2022, fair play to you all, good effort all round. We will do daily morning rubbish collections throughout the weekend in 2023, if you get your rubbish to the collection points each day, we can be even more efficient with the recycling. Here's a few tips to help us out.
Please separate any food waste from anything that can be recycled otherwise the council will not except it and it's a horrible job for our crew to deal with.
Please take the lids off and empty bottles. Plastic bottle tops are made from a different plastic to the bottle, separating them makes recycling easier and saves lots of space in the recycling bins.
Please compress stuff down, if possible, crush cans, flatten boxes and remove lids from things.
Please do not leave single use plastic on site, if possible don't bring it to site, but if you do take it home with you it does not belong in a field
Any broken electronics can be taken to any retailer that sells electronics, by law if they sell electronics, they have to recycle it. Please don't leave batteries or broken electronic items on site.
No glass on site please, if you do bring glass to site, please take it home with you. We have dogs and bare footed people on site please be considerate.
Thank you for supporting our efforts
Location – Out To Grass, WR135JW
Please look into our Train Station Taxi Ticket to get to us on public transport. Pick up from Malvern Link Station only at advertised times only.
Full car reward scheme – Fill seats with bums and be rewarded. We will have Environmentally Responsible People Priority Parking available for you to get your passengers to their camping spot with ease and you'll find some extra treats in your goodie bags!
Blue badge holders please drop us a message if you need anything specific from us, we will do our best to provide suitable access to all stage arenas and facilities.
We have a "be cool rule" here at Out To grass. Respect one another, the land, the crew, our animals, our neighbours and support our eco efforts. Be kind and look out for each other while you are here, if you see something, say something to a crew member so it can be dealt with.
Naked dancing in designated areas in conjunction with the personal space and comfort circle guidelines
We pride ourselves on having no hidden charges. We do not charge a "booking fee" but refunds will attract a charge to cover admin, Bank and PayPal charges.